Welcome to Porous Coordination Polymers (PCPs)/Metal-Organic Frameworks(MOFs)
The 4th century BC, Chuang Zu casts "THE USEFULNESS OF THE USELESS". This is a notion like a seemingly strange thing: "Everyone knows the usefulness of the useful, but no one knows the usefulness of the useless."
Let's look at our science field. In conventional solid materials, attention has been paid to closely assembling atoms and molecules in order to produce excellent physical properties such as conductivity and magnetism. In other words, it was regarded as meaningless to make a void (space is useless). On the other hand, new solid materials can be developed if molecules and ions play an active role in such a space and create an unprecedented function. In other words, space is useful if one changes the view.
In our laboratory, we focus on this space, and aim to design and synthesize materials with space, and create and develop a new space science.

Isn't it possible to create a substance with space, and answer only our self-satisfied interests of scientists?
  Substances with a large amount of space are called porous substances (materials that help our lives and industry are called porous materials because we call them materials). The typical thing is activated carbon. Activated carbon has already been used for medical care and removal of non-compliant items in the Egyptian era 3500 years ago, and is still widely used for cleaning water and air. In the 19th century, natural ores with a porous structure (called zeolites) were discovered, and in the 20th century, artificial synthesis was carried out, which has greatly contributed to the petrochemical industry, etc. In this way, porous materials are indispensable in human history.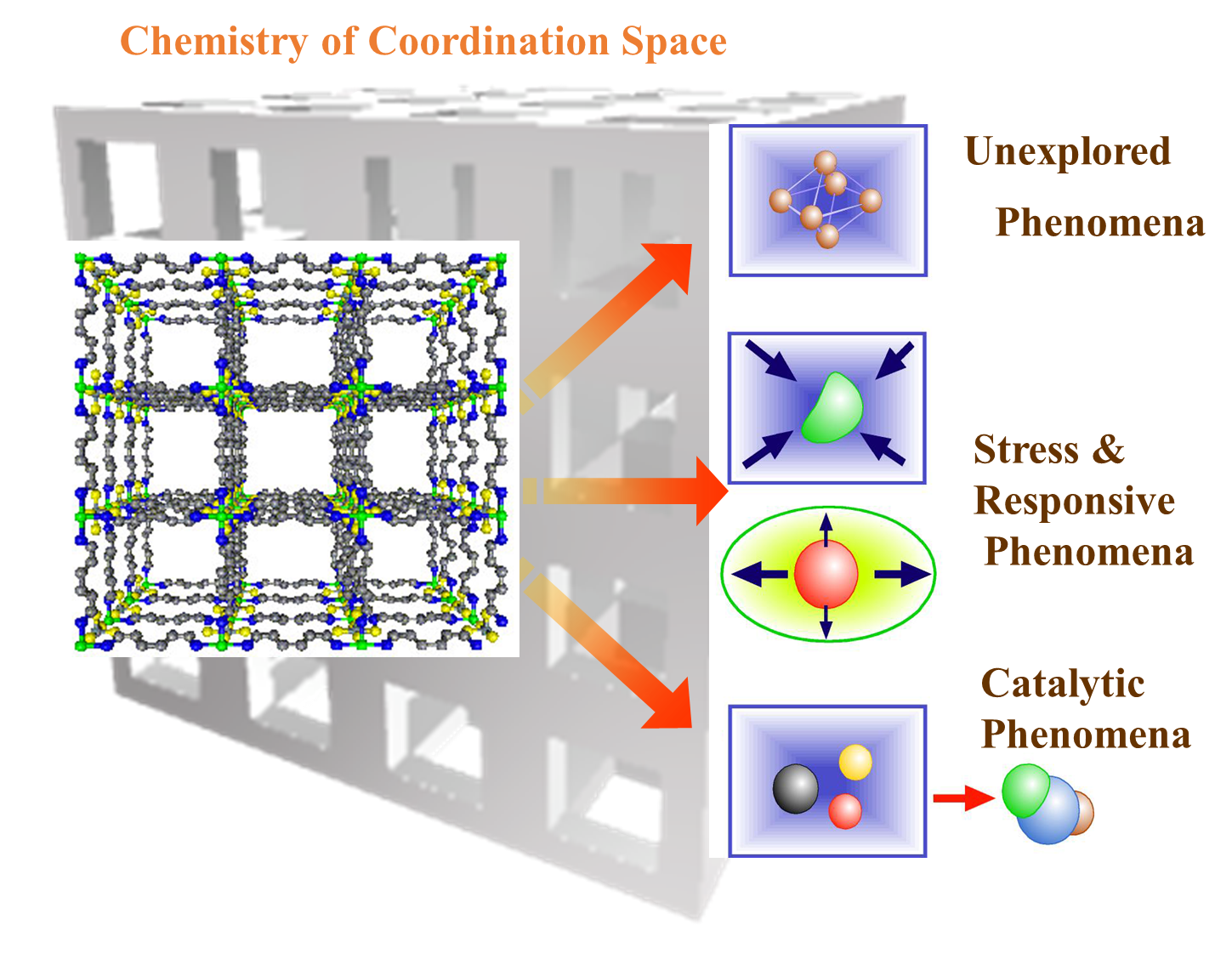 紀元前4世紀の莊子は「無用の用」を唱えた。これは「誰も役に立つものは当然役に立つが、役に立たないものも実は役に立つ」と、一見判じ物のような考えである。私達の科学の場に目を向けてみみよう。これまでの固体材料では優れた伝導性、磁性などの物性を生むには原子、分子を密に集合させることに注意が払われてきた。すなわち空隙を作ることは意味をなさないとみなされていた(空間は無用)。一方、このような空間に分子、イオンが主役として活躍しこれまでにない機能を生み出せば新しい固体材料が展開されうる。すなわち見方を変えれば空間は有用である。
 私達はこの空間に注目し、その空間を持つ物質を設計し、合成して新しい空間の科学を創成、発展させることを目指している。

空間を持つ物質をつくることは果たして、私達科学者の自己満足的興味だけに答えるものでしょうか?
多数の空間を持つ物質は多孔性物質と呼ばれています(私達の生活や工業に役立つ物質は材料と呼ぶことから多孔性材料とします)。その代表的なものは活性炭です。活性炭は3500年前のエジプト時代に既に、医療や不従物の除去などに使用されており、現在においても水や空気の清浄化などで多用されています。19世紀には多孔性構造を持つ天然の鉱石(ゼオライトと呼ばれている)が発見され、20世紀には人工合成が行われ石油化学産業などに大きく貢献しています。このように人類の歴史において多孔性材料はなくてはならない物となっています。